What an accomplishment after less than 3 years of running the DeiC Interactive HPC service – there are now more than 7000 users on UCloud!
And not only that – we are seeing an increase in the number of active users per quarter.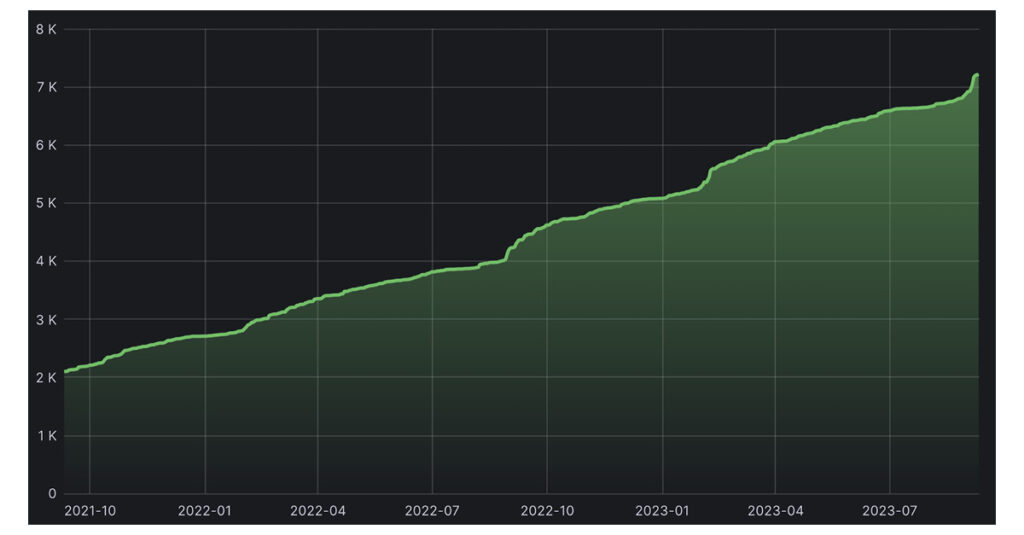 Graph: the number of users on UCloud. UCloud has been used as the basis of the national HPC service, DeiC Interactive HPC, since November 2020. DeiC Interactive HPC is provided by a consortium of universities consisting of Aalborg University, Aarhus University and the University of Southern Denmark.
With so many users, we are also experiencing an extremely high utilization of the service. Over the last 6 months the average utilization was above 85%, with a peak utilization during working hours of more than 170 % of the total national capacity.
"The DeiC Interactive HPC has been an incredible success among Danish researchers and students, to the extent that it is now one of the most popular HPC services in Europe, despite being a relatively small infrastructure. This innovative DeiC service has succeeded in democratizing HPC among all research disciplines, including humanities and social sciences. It has also been a very popular platform for teachers at universities, who now use it every year as part of their courses."

Director of the SDU eScience Center, Prof. Claudio Pica.
"The surge in demand is a testament to the growing importance of interactive HPC in the national research ecosystem. It's not just about capacity, but about making high-performance computing accessible and relevant to every field of study."

Professor Kristoffer Laigaard Nielbo, head of Center for Humanities Computing, Aarhus University
"We are incredibly proud of DeiC interactive HPC's success and we are excited for the future possibilities and perspectives."

Lars Sørensen, Head of Digitalization, Aalborg University
This year, new hardware will be added to the service to accommodate the growing interest for GPU computing, which are highly requested amongst the DeiC Interactive HPC users. The new machines, which will be added both to the AAU and SDU datacenters, include compute nodes with 4 NVIDIA H100. This will have a significant impact on advancing research in Denmark.
This update was originally posted by the SDU eScience Center.